Artist-Musician, Songwriter, Producer, Teacher.
An approach to time and space with hands, feet, breath and voice... Professional musician since 1991 (drummer, percussionist, flutist, singer, arranger ...)songwriter, teacher constantly inspired and renewed by the cultural richness of all the encounters staking his career.
From the age of 9 Martin started drumming, at the conservatories of Tours, Compiègne and St Germain in Laye, until the age of 18.
After this he attended CIM, a jazz school in Paris. For 4 years, he studied drums, percussion, harmony, singing, piano and arrangements..
He was awarded the DESMM (Graduate Diploma in Modern Music) in 1990. A manner of learning through direct experience, in contact with many professionalsduring masterclasses, teachings and jam sessions,with, for example Paco Sery, Angelique Kidjo, Bojan Z, Yvan Julien, Tito Puentes, Christiane Legrand, Louis Winsberg and many others...
Settled in Touraine since 1992, Martins music evolves as he plays with several bands Fusion: Wa, Mbata Kongo,Afro-reggae-rap influences, then Namastéj, Indian influences, through the production of CDs, concerts and festivals in France.
Since 1999 he has composed and produced shows for and with children of all ages, including the trilogy"The Dreams of Wanané" and interactive musical tales, with"The United Children's Company".Many schools have already taken advantage of these "moments of dreams" ...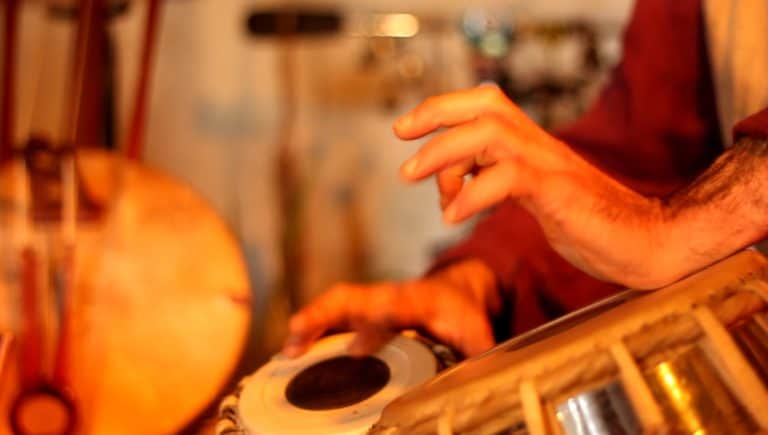 At the same time, he was introduced to Indian tablas with Amrat Hussain and his father Ustad Rafeek Mohamad in Jaipur, India. It was at this time that he began to practice the Kena (Andean flute) and the bansuri flute (Indian flute). In 2008, thanks to Johanni Curtet, he met Tserendavaa, one of the greatest current master of Mongolian diphonic singing, who introduced him to this singular vocal technique.
In 2010 he participated in the creation of an album and a show for environmental purposes: Reforestation Project in Bodh-Gayâ, India with the association "Green Bodhgayâ".
In 2013, at the festival "The Dream of the Aboriginal", he began to practice the Kora, African harp, and met Ibahima Sissokho, since this instrument does not leave him !
In 2014 he once again participated in a humanitarian action by creating and producing a collective album for the association " A roof under the Himalayas ": production of the CD " M'Dub & Friends, Playing for Children ", for helping to build a home Welcoming about forty children to Pokhara, Nepal.
In 2015, during the "Hand Pan Festival", he acquired a first Hand-Pan, a singular instrument, melodic metal percussion, which he quickly incorporated into his set !
In 2017, a new humanitarian partnership with the NGO "One Action" : creation and production of the album " Elements of Existence " to help the education of a hundred underprivileged children in Bodhgayâ. This duet with Tritha Sinha, a virtuose singer from Calcutta (India), was touring India in the winter and Europe in the summer.
Actually, he performs solo, with M'dub & Friends, international collective with variable geometry; also in India with the group "Trippy Sama" and likes to be invited to different projects in India and Europe.
He is also widely invested in teaching, Diphonic Singing, Percussion, Hand-Pan and in the "Healing" dimension of sound with "Musical Nap", "Sound relaxation" and multiple collaborations with yoga teachers in workshops, courses and festivals.